Refining the Freelancer Mindset:
Leveraging Platforms like GitHub, Stack Overflow, Total, and Medium for Optimal Success
Crafting a new profile on Upwork is a streamlined process. Adhere to these steps to establish your profile:
1. Register or Log In
   – If you're not already an Upwork member, visit the Upwork website (https://www.upwork.com/) and select the "Sign Up" button.
   – For existing users, click the "Log In" button and provide your login credentials.
2. Complete Your Profile:
   – Upon logging in, the system will prompt you to finalize your profile. Furnish accurate and pertinent details about yourself, encompassing your skills, professional history, and educational background.
3. Select Your Proficiencies:
   – Choose the skills that mirror your expertise. This step is pivotal, as clients often search for freelancers based on their skill sets.
4. Craft a Title and Overview:
   – Create an engaging title for your profile that spotlights your core skills or services (e.g., "Seasoned Web Developer" or "Innovative Content Writer").
   – Draft an overview that concisely outlines your experience, strengths, and the unique value you can deliver to clients.
5. Upload a Polished Photo:
   – Opt for a clear and professional photograph of yourself. This enhances client engagement by adding a personal touch.
6. Specify Compensation:
   – Outline your preferred compensation structure. You have the option to set an hourly rate or establish a fixed project fee, based on the nature of your services.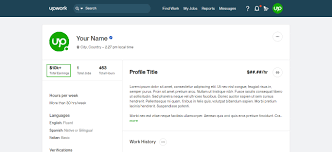 7. Showcase Relevant Portfolio Entries:
   – Display your previous work through portfolio items. Include examples of your finest projects to underscore your skills.
8. Submit Your Profile:
   – Conduct a comprehensive review of the provided information to ensure accuracy and comprehensiveness.
   – Once content, click the "Submit Profile" button.
9. Verification and Approval:
   – Upwork may assess your profile to ensure adherence to their guidelines. This evaluation process might span from a few hours to several days.
   – You could be requested to validate your identity and supply additional particulars.
10. Commence Project Bidding:
    – Upon profile approval, access projects aligning with your competencies. Submit proposals to clients in a manner that is tailored and persuasive, showcasing your grasp of their requirements.
11. Cultivate Your Reputation:
    – Progress through projects to build a favorable reputation on Upwork.
    – Garner client feedback and ratings, pivotal in enhancing the credibility of your profile.
It's pivotal to bear in mind that the creation of a robust, professional profile is pivotal for drawing clients and securing projects on Upwork. Spotlight your skills, professional journey, and the distinct value you can bring to clients, ensuring you stand out amidst your peers.
– Explore Profiles of Skilled Developers
– Discover Profiles of Ideal Clients
– Read Informative Upwork Articles (Understanding the Importance of Article Reading)
– Explore Medium Articles for Insights
– Identifying Reliable Clients: A Guide
– Navigating Upwork's Professional Standards (Evaluating Client Profiles, History, Upwork's Conduct, Conflict Resolution, Payment Methods, etc.)
– Crafting Effective Proposals: Unveiling the Three Vital Components
– Crafting an Impactful Project Proposal: The Essential Elements
How you can indentify good clients:
Recognizing reputable clients on platforms like Upwork is essential for a fruitful freelancing journey. Here are several pointers to assist you in identifying quality clients on Upwork:
1. Precise and Comprehensive Job Briefs:
Seek out clients who offer meticulous and well-defined project descriptions. Clients who invest effort into outlining their project requirements, aspirations, and objectives typically exhibit a higher level of commitment.
2. Realistic Compensation:
 While competitiveness is crucial, clients proposing extremely low budgets might not adequately appreciate your expertise. Prioritize clients who propose reasonable compensation in alignment with the project's scope.
3. Verified Payment Methods:
Clients who have validated payment methods generally inspire more confidence. This indicates their willingness to share payment information on Upwork and suggests a greater likelihood of honoring financial commitments.
4. Favorable Testimonials and Ratings:
 Clients with positive feedback and top-notch ratings from prior freelancers are positive indicators. These endorsements provide insight into the client's history of interactions and the degree of satisfaction.
5. Prompt and Responsive Communication:
Clients who swiftly reply to messages and inquiries typically exhibit a heightened level of engagement. Such responsiveness reflects effective communication skills, vital for a successful partnership.
6. Project Track Record:
 Investigate the client's history of completed projects. A proven record of successfully executed collaborations with freelancers bodes well for a productive engagement.
7. Effective Communication Style:
 Prioritize clients who communicate clearly and professionally. It's advisable to steer clear of clients whose communication is ambiguous, demanding, or disrespectful.
8. Advance Milestone Payments:
Clients who are open to establishing upfront milestone payments (in escrow) demonstrate a strong commitment to the project. This approach safeguards both parties and underscores the client's seriousness.
9. Reasonable Project Timelines: 
Projects that have excessively brief durations or unrealistic deadlines may signal rushed work or vague requirements. It's advisable to pursue projects with sensible timeframes.
10. Interview and Discussion:
 If a client initiates an interview or conversation before finalizing the hiring process, seize the opportunity to evaluate their professionalism and whether your working methodologies align.
11. Specialized Expertise:
Clients actively seeking freelancers with specialized knowledge in their field or industry often possess a genuine investment in finding the right match for their project.
12. Project Success Track Record:
Opt for clients with a track record of successful projects. This showcases their comprehension of the freelance workflow and suggests a propensity for fostering a positive experience.
Maintain a balance between prudence and receptiveness. While identifying trustworthy clients is crucial, affording new clients the chance to showcase their merits is equally important. As you accumulate experience on the platform, your ability to discern positive signals in client-freelancer dynamics will undoubtedly improve.
To write a good proposal you must be a good reader
-how to become a top rated freelancer (share your own experience)
-what skill set you should mention before bid start
-what hourly rate should mentioned (Have to calculate it ?)